Isfryn
Isfryn provides rehabilitation and support for individuals with acquired brain injuries. We specialise in
integrating rehabilitation programmes into functional, community living, while longer term placements are available, if required.  Every individual has a bespoke programme of support and unique support pathway, including varied vocational, recreational, therapeutic and leisure activities.
We understand that neurological conditions impact on the whole family and social network. Therefore, we strive to support the individual to maintain even long distance relationships, as well as empowering the individual to develop new social contacts. We are able to facilitate family network groups, and our clinical and management team are available to support family to understand the changes occurring.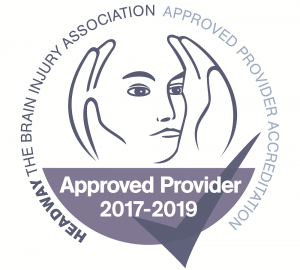 Isfryn has Headway Approved Provider status. The process is rigorous and looks for specialist ABI support for individuals and their families in 33 domains. This process ensures that services gaining Approved Provider status can demonstrate their provision of appropriate specialist care for those with an ABI. Key aspects of the process include ensuring staff working in the service are aware of and responsive to issues associated with ABI, and that the service considers the information and other needs of the individual, their family and carers. Each successful service is accredited by Headway for a two-year period as an Approved Provider.
Download our acquired brain injuries brochure
Summary and contact details
Support Type: Acquired Brain Injuries
Capacity: 8 Adults 
Gender: Mixed Gender 
General enquirers: 0333 444 0075 
Location: Swansea
Email: info@accomplish-group.co.uk